The 2020 Subaru Love Promise Community Commitment Award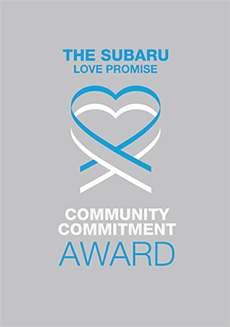 We've been nationally recognized for our dedication to our community and the Subaru Love Promise.
We're honored to receive the 2020 Subaru Love Promise Community Commitment Award. This award nationally recognizes Subaru retailers who are making the world a better place while demonstrating an outstanding commitment to supporting passions and causes in local communities. These efforts are focused in important areas such as the environment, community, health, education, and pets.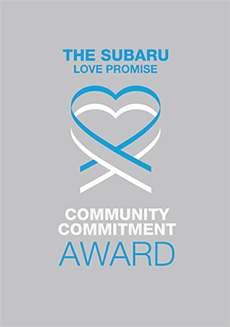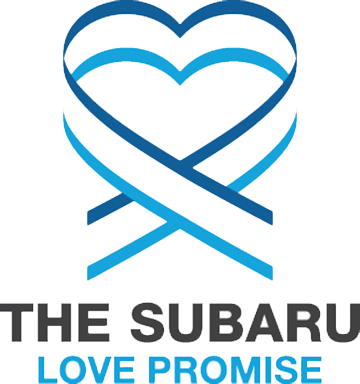 What is the Subaru Love Promise?
Subaru and our retailers believe in making the world a better place and the Subaru Love Promise is our vision of respecting all people. This is our commitment to show love and respect to our customers and to work to make a positive impact in the world.
How is Bennington Subaru dedicated locally to the Love Promise?
Our Love Promise can be seen in various partnerships with local charities and non-profits. We're grateful for the opportunity, not only to be a part of our community, but to serve it as well.
Second Chance Animal Shelter
Mt. Anthony High School, Fisher Elementary School
Meals on Wheels, Habitat for Humanity
Southwest Vermont Medical Center, Grace Cottage Ho
Love Promise Stories from Bennington Subaru
Subaru and Bennington Subaru believe in making a positive impact on the communities in which we live and work. We uphold that belief through our Love Promise Community Commitment. Every month, we select inspiring stories from customers and partners from around our area who strive to support our collective commitment and feature them here
Random Act of Kindness: Give One, Take One - Gavin M
February 17th is National Random Act of Kindness day, so we decided to pass out flowers. We drove around Bennington passing out two flowers to each person with one simple task. To pass the second flower on to someone else. We came up with this idea because it's a great feeling to make someone's day and we wanted to share that feeling with other people. I designed cards to attach to the flowers to let people know to take a flower and to pass a flower. That second flower could be passed onto a loved one, a friend, or even another random person. We drove all around Bennington from Southwestern Vermont Medical Center (SVMC) to Bennington College and everywhere in-between. We had many people say that we made their day, including a nurse from Centers for Living and Rehabilitation, who sent us an email after our day of passing out 200 Carnations. It reads "Thank you for the flower. I actually took 5 into CLR today and made the day for a hand full of people and their friends". We were so excited to read that we did what we set out to do, simply make people's day better.
---
Bennington Subaru Donates to three local Charities - Gavin M
Bennington Subaru Supports The Greater Bennington Interfaith Community Services, Hoosick Area Church Association, and Cambridge Food Pantry & Outreach Center. We decided to donate too these to three charities because food and other necessities are needed now more than ever. We proudly were able to donate $2500 to each charity to help fund: The Food Pantry, VITA Income Tax Prep, Emergency Services, Christian Action Award, Health Center Services, Back-2-School Boost, Holiday Baskets, Good Friday Walk, National Day of Prayer Service, and Baccalaureate and much more.
---
Spirit of Sharing - Jenica M
The Spirit of Sharing program in Bennington, Vermont collects gifts and donations to purchase gifts for families in need every year for Christmas. For 2020, an especially difficult year for many families, there were 409 children on the list as well as 17 additional families on the waiting list to be assisted. Bennington Subaru donated $2500 to The Spirit of Sharing, and with that donation was able to help facilitate gifts for 50 children!
---
Second Chance Loves Bennington Subaru - Cathi C
Second Chance Animal Center and Bennington Subaru established a regular partnership in 2016 when our shelter was invited to organize a companion-animal adoption event at the dealership. This was an important event for Second Chance as we rely on offsite adoption events to better expose our shelter animals to a wider group of potential adopters. Since that initial event, we have worked regularly with Bennington Subaru to provide support to our shelter. We continue to organize 1 or 2 adoption events each year (with the exception of 2020 due to the pandemic). We bring a variety of felines, including hard-to-place seniors and kittens, and we schedule the appearance of some of our shelter dogs throughout the event. Though Second Chance does not process same-day adoptions for dogs (we believe that it takes a few visits to make sure someone is ready for the time commitment to adopt a dog), it's an important enrichment and socialization exercise for our dogs to attend. This way they get used to cars, greeting new people, and having the ability to see a different environment for a while. Many times people from the community will attend one of these Bennington Subaru adoption events because they want to adopt, and this site might be closer to them than our facility. We also have an important relationship with some of the associates who work at the dealership. Often they will call their friends to come look at a Second Chance animal participating in an adoption event, or sometimes an associate will fall in love with an animal and make an appointment to visit the shelter on their day off to complete an adoption. Some associates have participated in some of our other programs, including our low-cost Spay/Neuter Assistance Program. Getting the word out to our community is an important part of this partnership. Bennington Subaru has also organized animal-food drives on behalf of our shelter. For many years we have distributed (free-of-charge) dog and cat food to community pet owners needing some assistance. The dealership has successfully used social media to encourage their followers to support the community food pantry by dropping off food in a designated box in their lobby. All of this food then goes into our pantry so that when someone calls for free food, we are able to provide this to them. The dealership also knows how much dogs love squeaky toys! A couple of years ago, they donated about 100 Subaru dog toys for us to give to our shelter dogs. Since our shelter can house a maximum of 14 dogs at any time, we also used these toys as giveaways when someone adopted a dog from the shelter. People absolutely love to receive these type of items when they adopt, and all recipients remarked at how good Bennington Subaru was to do this. The largest project we have undertaken with Bennington Subaru was in 2019 when we raffled a 2019 Subaru Crosstrek. We worked with the dealership to identify the "perfect" dog car, then set out to sell at least 1,000 raffle tickets at $40 each. The dealership hosted several ticket-selling events and helped us to promote further sales in the community through their social media postings and by allowing the receptionist to sell tickets on our behalf in their lobby. When the raffle ticket was pulled (by The Most Interesting Man in the World – a supporter of our shelter who lives nearby), and we paid the discounted purchase price charged by Bennington Subaru, our net was over $25,000 for our shelter! This was an amazing fundraising event, and we plan to do this every 2 years moving forward. Bennington Subaru has been a great supporter of Second Chance Animal Center. From helping us to adopt animals that need extra exposure to helping us to raise important funds for our operations, we look forward to many years of strengthening and continuing our partnership so that our community benefits from our programs and services.
---
#GivingTuesday2020 to our Local Heros! - Heather P
On Giving Tuesday, Bennington Subaru sent pizzas to feed the nighttime heroes at Southwestern Vermont Medical Center. Knowing how hard these folks are working to keep us all healthy in safe, not only during normal times, but during this pandemic as well. Bennington Subaru is so thankful for our local heroes and sending them dinner was the least we could do as a dealership!
---
Spirit of the Summer Gala - Marie G
"Early in the COVID-19 pandemic, Southwestern Vermont Health Care's (SVHC) Foundation canceled The Summer Gala—the organization's signature fundraising event. Today, Vermont's diligent efforts to control the spread of the coronavirus have allowed us to move cautiously toward a new normal and embrace all of the opportunities that come with it. We have transformed our signature charity event into a virtual experience: Spirit of the Summer Gala. Becoming a Spirit of the Summer Gala sponsor highlights your business to an important clientele. It provides your company with a marketing opportunity that includes significant impressions via web, social media and direct email marketing with reciprocal links to your website. Showing your support for SVHC at this important time enhances your reputation as a community partner." Carol Patterson, Co-Chair Summer Gala Bennington Subaru has signed up to be a lead sponsor for $1800 for this year's Gala.
---
Dorset Equine Rescue - Janet D
"Bennington Subaru has generously sponsored our fundraiser for the Dorset Equine Rescue the past 3 years and we greatly appreciate it and so do the rescue horses. Unfortunately, due to Covid we have to cancel our annual Barnyard Ball fundraiser for the Dorset Equine Rescue." Janet Dunnington, Event Chair for Dorset Equine Rescue Rather than having our $500 donation refunded, Bennington Subaru opted to have the $500 sponsorship become a donation.
---
Bennington Subaru supports 2nd Chance - Rick B
In September, Rick Budd, GM of Bennington Subaru was proud to help present the keys to a new Subaru Crosstrek to John Morrell. John was the the lucky winner of the Crosstrek Raffle provided by Bennington Subaru in support of the 2nd Chance Animal Center. The center provides compassionate shelter services to Bennington County. From adoptions to advice, their caring and trained staff have assisted the community since 1959, recently moving into a new, state-of-the-art facility in Arlington (VT). The VIP "ticket picker" was Jonathon Goldsmith, aka "The Most Interesting Man in the World". The raffle was a huge success for the Center and the proceeds will go a long way in supporting their mission of providing area animal shelter and adoption services, humane education, and spay/neuter assistance. Bennington Subaru is proud to support the Subaru Love Promise and we're doing our part to make the world a better place!
---
Meals on Wheels donation - IIsa S
The local chapter of the Meals on Wheels of Bennington County cam to us at Bennington Subaru because they where way behind their goal of raising $50,000. All of us at Bennington Subaru wanted to help support this great community service. We agreed to donate $10,000. to help feed those in need around us.
---
Pet adoption day - Matt G
On May 18th we had The Second Chance Animal Center in the showroom for a pet adoption day. They brought cats and a rabbit and were able to find new homes for several of the cats. A lot of people came to check it out and get information on other pets that they have back at the animal center. Matt Gaff Gaffney the General Manager of Bennington Subaru presented a check for $750.00 to them at the end of the event.
---
Hospital - Seth T
We at Bennington Subaru reached out to our local hospital to see what we could do for them. Southwest Vermont Medical Center wanted us to come to their annual fundraiser which we were glad to do. We donated $5000 to help their efforts to raise money.
---
Subaru and LLS Love Promise Story - Christine K
The Leukemia & Lymphoma Society was honored to join Bennington Subaru for the delivery of 80 beautiful blankets and 12 craft kits for kids. The delivery took place right outside of the Southern Vermont Regional Cancer Center on Thursday, July 13th. The Subaru was packed to the brim to provide patients comfort and warmth. They also delivered care cards with messages of hope! Thank you Bennington Subaru for all you do.
---
Local Athletes & Coaches Awarded - Jay M
Local Athletes & Coaches Awarded at the first annual Regional All Star Gala held at Bennington College. The 2017 male athlete of the year, Jay McCoy, stands with Gabby Douglas after receiving his award on Tuesday night at the Regional All-Stars Gala sponsored by Bennington Subaru. To start the program, Warren Dews, New England Newspapers' Vice President of Audience Development welcomed everyone to the event, which happened to be a packed house at Bennington College's Greenwell Auditorium. He had all the local gymnasts come up to the stage as he introduced Douglas, who came out to a standing ovation. Afterward, Douglas was gracious enough to sign autographs and take pictures with fans. BENNINGTON — The drama at the end of the night was palpable. Who would be the Athletes of the Year at the first-ever Regional All-Stars Gala? When all was revealed, a pair of three-sport athletes brought home the hardware. Mount Anthony senior Emily Altland was honored as the Regional All-Stars female athlete of the year, taking the title after all-star efforts this season in soccer, Nordic skiing and lacrosse. When New England Newspapers publisher Alan English announced her name, the crowd stood up and cheered as Altland made her way to the stage with some of her teammates cheering as she accepted top honor from this year's guest of honor, three-time gold medal-winning gymnast, Gabby Douglas.
---
An Edible School Garden in Rockland County, NY - Ronald and Ellen S
We began a school garden at Grandview Elementary School (1,2,3 grades) where 98% of the student's are eligible for free or reduced school breakfast and/or lunch. The needs at this school are great and the teachers and principal are the most dedicated and inclusive educators we have ever met. A team of seven volunteer gardeners trained by Cornell Cooperation Extension of Rockland, Master Gardeners and RISE Gardeners, came together to resurect the school's atrium garden. Our goal was to engage all interested students in the work of gardening and the science and joy of growing food and flowers. Our first year we invited interested students to give up a recess period to garden with us. After the first growing season we realized we could also teach about nature, ecology and stewardship of the Earth. Our Garden Club now meets twice weekly involving all students. Our garden has evolved into a true outdoor classroom now including benificial insects, a pollinator garden, native plants, water conservation, organic practices, weather recording, bird feeding, recycling and composting. Tthis summer we will be growing produce for summer harvest so our students can have fresh and healthful food that they have grown themselves. We have learned that young children love to water, weed, watch worms, taste the foods they grow, and bring fresh food home to share with their families. This garden has brought joy, learning and health to our school community and our Subarus get us there!
---